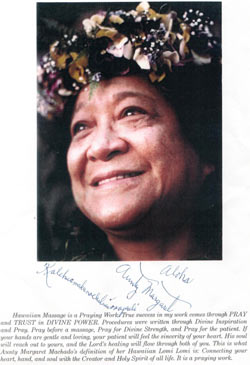 Dr. Noekeala also teaches with other healers of non- Hawaiian traditions in Hawaii. She also teaches Lomilomi in California with the blessings of her teacher Aunty Margaret Machado. Noe was also given the blessings by Lanakila to carry on what he taught her. Noekeala has been given many gifts by the aina (the land), her many kumus (teachers) and aumakua (spiritual guardians), for which she is very grateful. Mahalo nui loa.
Anna Bonas DC LAC OMD
AKA "Noe"
Sebastopol, California, and Hawaii
For over 35 years Dr. Anna "Noe" Bonas has enjoyed a thriving healing practice. Dr B. has practiced in Sonoma County, Santa Cruz, and in Carmel, California combining many forms of Mind-Body healing, along with Acupuncture and holistic Chiropractic. She has been initiated into the "sacred ways" of healing, by honored elders of several indigenous cultures.
Dr Bonas is a Holistic Chiropractor and Acupuncturist, with a vast background in Eastern and Western healing therapies of the Body, Mind and Spirit. She has a Doctorate in Chiropractic and Oriental Medicine,and holds national status as a diplomat in both fields. Dr. Bonas also has a Bachelors degree in Psychology and a major in Human Anatomy.
She is Certified as a Polarity Health Instructor and Hypnotherapy, Master Practitioner in NLP, and studied Ericksonian hypnosis. She has studied many other forms of emotional and physical therapeutics, which help to release the cause
of disease. She is a 7th degree Reiki master. Her research in the psycho-spiritual aspects of health has enabled her to integrate these disciplines into her work and teachings.
She began doing prayer healing as a child, and has studied many forms of healing ever since that time.
Dr Anna began Eastern meditation practice in 1969. Throughout her professional career she has been a student and practitioner of Eastern spiritual traditions. She melds this richly diverse background together to provide a unique atmosphere in which her patients realize a more complete sense of wellness.
Currently, Dr Bonas is the director of Yumtha, maintains a private practice, along with being the creative developer of the Gallery 4 Generosity Arts Project, that will provide art and gift products, all profits from G4G will sustain Yumtha and other projects that benefit others. www.gallery4generosity.com
Dr Anna or "Noe" as many call her, is the visionary and developer of "Metta Care".
Metta Care Associates, is an association of alternative professionals, DC, LAC, MD, RN, LVN, psychotherapists, massage and movement practitioners; Qigong to yoga, herbalists, nutritionists and homeopaths, along with lay individuals interested in responding to the needs of those ill, aging and dying with compassion, contemplation and care who are interested in creating affordable health care.
As a person of vision and experience, Dr Bonas recognizes this is the time to establish a compassionate care center for conscious living and dying in Sonoma County. Yumtha's vision became clear to Dr Anna when she was working with many individuals in the 1980's who had AIDS and cancer, and who were unprepared emotionally and spiritually to die. With a deep sense of compassion and care the vision of the Yumtha Center was born.
Yumtha means "spiritual healer", one who sees the needs of an individual or community and through inner vision and wisdom implements a cure. Yumtha was a name given to Dr Bonas by a Native American Pomo Elder who was a friend and spiritual teacher.
The focus of the work of Dr Bonas has been the caring for individuals and couples, body, mind and soul. Her work is encompasses teaching, individual treatments, on the mainland and Hawaii. The nature of her private practice for almost 40 years, has been cultivating deep healing and opening of the heart, and a lifelong journey of awakening.
Dr. Bonas is engaged in nurturing the practice of life's "Soul Ecology." © Her compassionate care observes the path of the soul, in wellness, and in illness and death to facilitate compassionate transitions while setting the stage in life for healthy compassionate transitions to the next awakening. "Soul Ecology" is a way of doctoring and tending with care, in life for our next, by planting fertile seeds of compassionate karma (action), for the vipakka; the fruits of our actions to bloom in one's next life.
The Dhalai Lama once said, " to die well, is to have lived well is to have an auspicious rebirth".

To contact us regarding this or other seminars: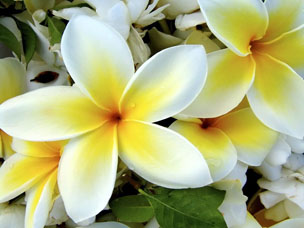 Tropical Healing Journey's for women who have had cancer
Sept 4-11-10
Hawaii
See Classes for details